VINES, WINE AND HERITAGE
Easy level- 5.8km (3.6 mi) – Duration : 1h30 to 2h

Departure Caveau de Bourdic – 30190 BOURDIC : 8km (4.9 mi) from Uzès towards Anduze

A must-see, a stone's throw away from the Pont-du-Gard and Nîmes !
Departing from the Cellar of Bourdic, the discovery trail "Vines, Wines and Heritage" is a signposted and documented route, accessible and practicable all year round.
In the heart of the Duché d'Uzès AOP vineyard, one of the most beautiful in Languedoc and Occitania, you will discover Mediterranean landscapes and panoramic viewpoints. From there, you will see the extent of our vineyard along the wild Gorges of the Gardon, very close. To the west, the Cevennes will border your walk.
You will find all along the path, our explanatory signs about the vinegrower's profession, the vine cultivation, the grape varieties or the denominations distinguishing our wines as the Protected Designation of Origin Duché d'Uzès and the Protected Geographical Indications Gard, Cevennes and Pays d'Oc.
Our marked route also crosses the old centre of the typical village of Bourdic attractive by its heritage, Romanesque church from the 12th century, Protestant temple from 1838, castle from the 17th century, old bridge... and its paleochristian burials dated from the 7th century on the path.
The Bourdic is the small river, crossed several times, bringing with the Gardon its confluence, and the neighbouring Cevennes, a little freshness in summer to our vineyard.
---
Free access walk
New free topoguide (English version available) to pick up all year long at the Cellar of Bourdic during opening hours.
The trail is accessible by foot, bike, horse, all-terrain kickscooter... (no rental in site)
The "Accueil vélo" (Bike reception) labelled cellar is located less than 3 km (1.8 mi) from the Les Capitelles cycling loop
Tasting of our wines offered at the Cellar 
Groups > 10 people by appointment and quote
Groups > 10 people by appointment and quote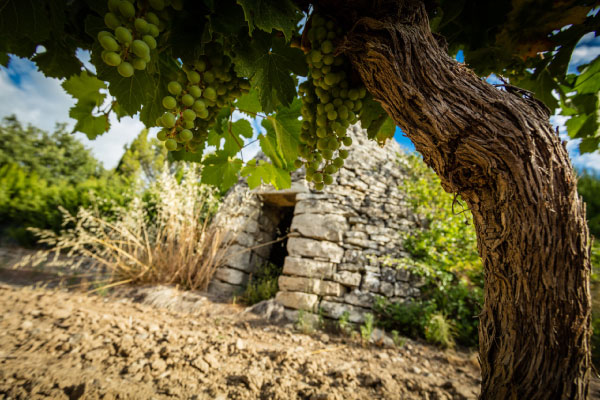 We open the doors of our vinification areas
and our barrel cellar, rich in authentic fragrances, and give you, with this commented tour,
all the secrets of the wine-making process.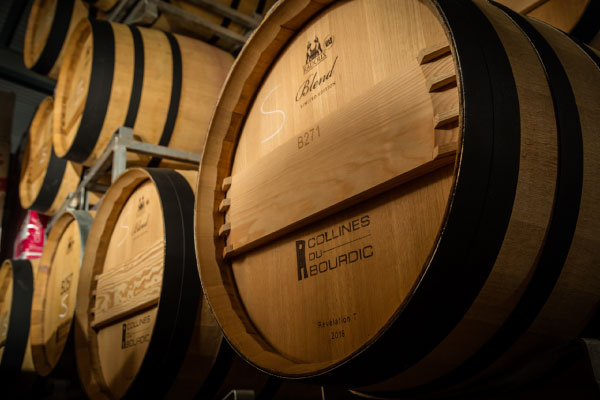 ---
Commented tour
Only every Thursday in July and mid-August*, guided and commented tour (French / English) - Duration: 1H
5€/person - Children <18 years old /free- Meeting at the Cellar of Bourdic at 3:30 pm
Wine tasting offered on the way back to the cellar
*Group, possibility of visit all year long by appointment and quote : contact@bourdic.fr or +33(0)4 66 81 81 65
---
Cellar of bourdic
In a spacious and modern cellar, discover our tasting room equipped with the Enomatic glass service system.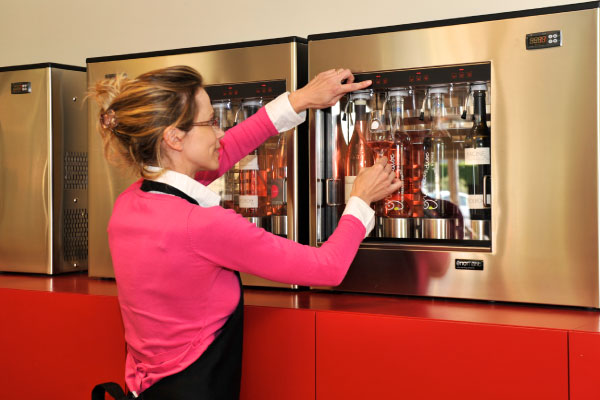 ---
cellar of saint maximin
The singular atmosphere of an old wine-making tank invites you to take a break and discover our wines,
in this warm and intimate cellar.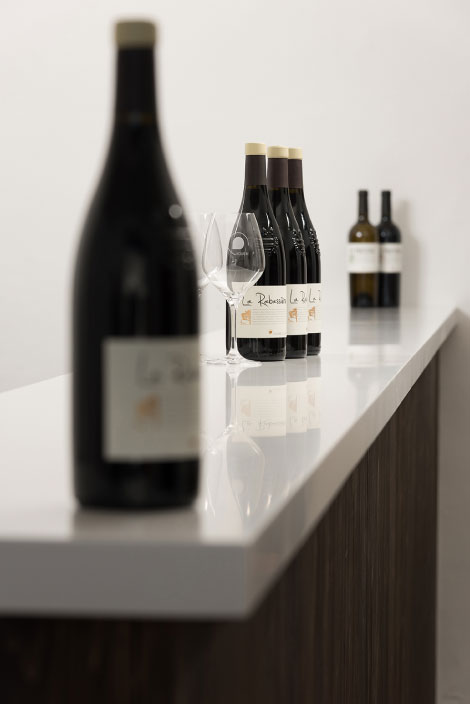 Exhibition of an artist each month at the Cellar of Bourdic - Free entrance - Check the opening hours of the cellar
Les Alliances Gourmandes
Mid-January : Wine tasting and truffled delicacies - By booking only/limited seat : 25€ per person
Mid-July : Tasting and local Mediterranean products - Musical atmosphere/concert - Free entrance / 5€ tasting pack
(not scheduled in 2021 due to Covid-19)

Les Collinades
Early August : Guided and commented walk by our vinegrowers with tasting breaks in the heart of the vineyard on foot or in a horse-drawn carriage (with extra charge) - Art exhibition along the path - Farmers' market - Animations and exhibitions - Musical aperitif and Concert - Sound and light show at nightfall
(not scheduled due to Covid-19)
Festival Primeur
- Sunday following the 3rd Thursday of October -

SUNDAY OCTOBER 24, 2021 at 3pm at the Cellar of Bourdic : tasting of primeur wines and "castagnade" (roasted chestnuts) - Concert of artists from the region - Free entrance / 5€ tasting pack
Precise dates in our calendar

groups by reservation & quotation
Use the contact form below for any information request